Three women conflict reporters were hosted in a virtual panel discussion by HumAngle Foundation, where they shared their journeys as conflict reporters and what institutions can do to empower more women to go into conflict reporting.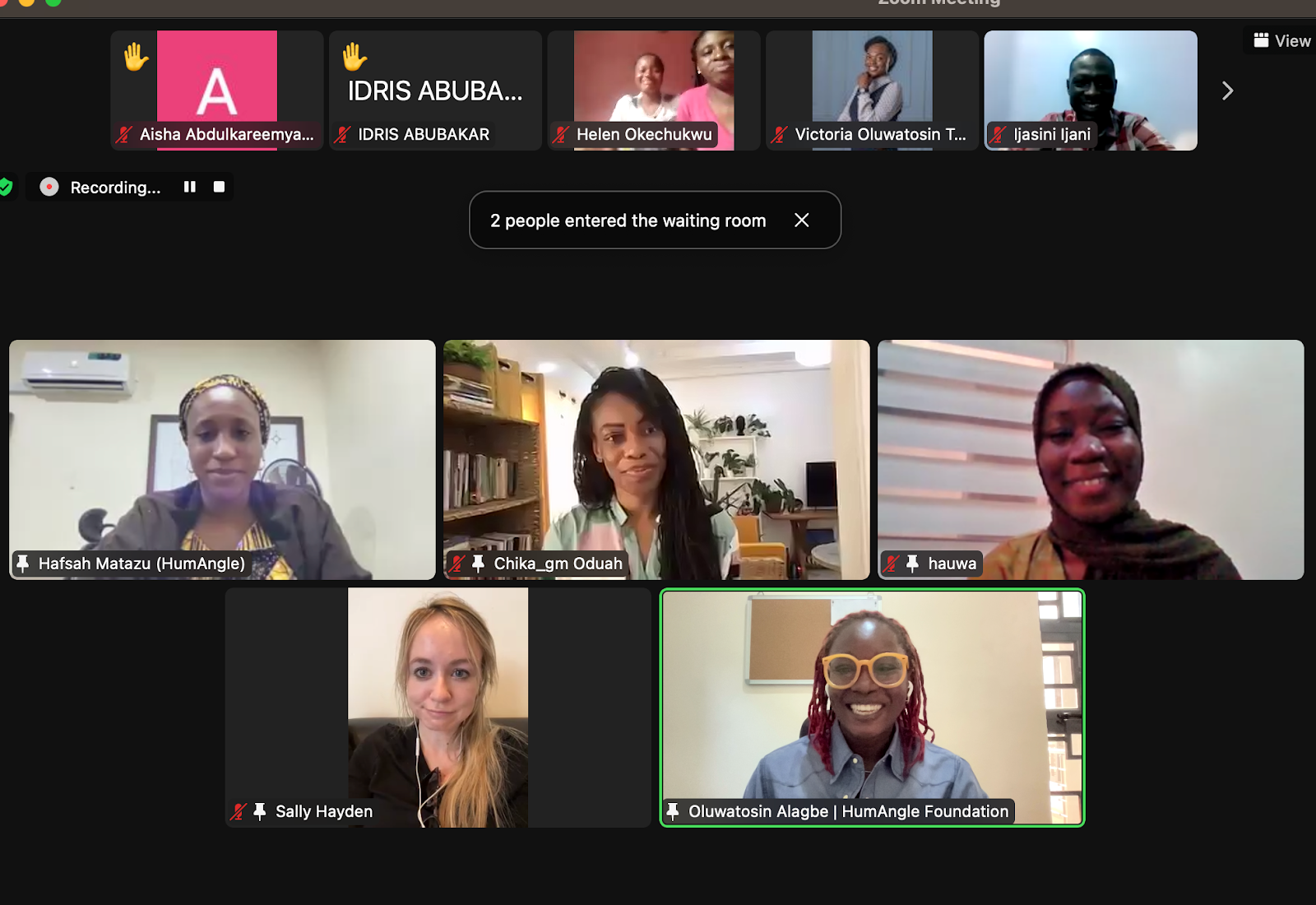 In its efforts to beam light on a path less taken by women, HumAngle Foundation, on April 27, hosted ace women conflict journalists Chika Oduah, Sally Hayden, and Hauwa Shaffii Nuhu to discuss the nuances of conflict reporting in an age where there aren't enough women doing it.
Chika Oduah, a Nigerian-American journalist, one of the discussants on the panel which was titled 'Genderising Conflict Reporting Dialogue', said 18 years ago when she became a journalist, she never had it in mind to be a conflict reporter. She wanted to cover culture. But when she moved to Nigeria in 2012, it was at the peak of the Boko Haram insurgency, and that changed a lot of things.
"…The story kept knocking on my door," she said.
"Literally, I kept getting requests from editors to commission me to do stories in the Northeast."
She has since gone ahead to cover many aspects of the insurgency, including the Dapchi abduction and Chibok abduction, and is the first journalist to accompany the Nigerian military to the field.
"My coverage, I don't like to call it conflict reporting. I like to refer to what I do as covering the nuances of life in Africa. So, it's more than conflict. It's about love, life, happiness, sorrow, and trials, and I try to capture the entire human experience, which includes challenges," she added.
Oduah also highlighted the need for institutions and journalists to hire more women, even as fixers and researchers, as they are often just as capable as their male counterparts.
It was a point that Hauwa Shaffii Nuhu, HumAngle Media's Managing Editor, agreed with, saying that HumAngle has tried that model and it is working very well, as upto 90 per cent of its pool of fixers and local researchers are women.
Sally Hayden, an Irish journalist and writer who has reported from Uganda, Rwanda, Ethiopia, and Sudan, said she believes both men and women cover conflict but overlook the plight of women caught up in situations of conflict. She narrated some experiences of women she has reported on, highlighting that certain nuances from those experiences might have been lost on men.
On her part, Hauwa Shaffii Nuhu said storytelling led her to conflict reporting because, as a writer, she believes the experiences around her inspire her to write.
"Two years ago, I had just returned from Law School, and the insurgency was advancing towards the Northcentral part of Nigeria, which is where I am from and where I live. And we woke up one day to the news that certain towns had fallen to Boko Haram. It was really surprising to realise that something like that was possible in such close proximity to where I was."
Seeing Minna, the city she lived in, brimming with Internally Displaced Persons (IDPs), was when she started having the urge to document the story of the people that had been displaced from their homes.
The speakers collectively believe that women, as vulnerable members of society, are the most affected in times of conflict and in different ways.
Earlier, the Head of HumAngle Foundation, Oluwatosin Alagbe, said the foundation started last year out of the need for the organisation to go beyond reporting and request change as a result of the consequential work that HumAngle Media does.
She said the Foundation is there to support journalists who are reporting underreported issues, ignored aspects of insecurity and development, and the role of media in the development sector.
As women have been largely underrepresented in conflict reporting, the dialogue is meant to discuss and proffer solutions to this problem.
The conversation was moderated by Hafsah Abubakar Matazu, a senior programme manager at HumAngle Foundation.
In the end, participants who joined the virtual event within Nigeria and other parts of the world asked questions on the subject, as the panellists answered.